About this item
⚡【15W Qi wireless car charger】Qi certified, 15W wireless car charger mount quickly charge your devices with the safest power. Supports Max 15W Fast charging wireless car charger mount for LG G8 ThinQ/G8S/G7 ThinQ/G7/LG V50/V40/V30+/V30/V40 ThinQ; Max 10W for Samsung S22 Ultra/ S22+/S22/S21+/S21/S20/ Note 20/ Note 20 Ultra /Note 10/Note 10 Plus/Note 5/Google Pixel 6 Pro etc; Max 7.5 W for iPhone 13/12/Mini/11 Pro/Pro Max. Other Qi-Enabled Phones.

⚡【Intelligent Sensing Alignment Charging】After smart sensor car wireless charger is powered on, the three arms will automatically open and the arms of wireless phone charger for car will automatically clamp after placing the phone; Built-in advanced chip, intelligently identifies the phone charging coil and automatically adjusts the wireless car charger foot position to ensure accurate and fast charging after the phone coil is perfectly aligned with the car wireless charger coil.

🚅【Automatic Clamping Design】The car wireless charger has a built-in automatic sensor that identifies and automatically closes the arm after your phone is placed on the charging plate. One hand operation, press any side button to release our phone quickly. No need to unplug the device and manage the cable, just pick it up.

🚅【2022 upgraded hooks, compatible with 99% vents】The upgraded hooks of the wireless car charging mount are 50% longer than those already in the market. Compatible with 99% of horizontal and vertical vents, overcoming the poor of compatibility and easy to fall off the problem of insecurity. Ensures that even if we encounter bumps or sharp turns, the wireless charger car mount can hold the device in place, thus ensuring safe driving without interference.

💎【Built-in super capacitor, power-off delay design】When we forget to take out the phone after the car is turned off, don't worry! Our wireless car charger mount is upgraded with built-in super capacitor design, even when the car is off, we can turn the fixture back on 2-3 times within 30 minutes without worrying about it being turned off.

💎【Compatible with thick case charging】Wireless car charger mount does not need to remove the phone case for wireless charging, and supports charging with phone cases up to 8 mm thick. Please note that external accessories such as metal cases, magnets, credit cards, handles and stands can interfere with charging. Wireless car charger grip arm and bottom are made of silicone for enhanced anti-slip effect.

💯【Smart and safe charging】 When there is a metal substance between car phone holder mount wireless charging and the device, the wireless car charger will stop charging and the red light flashes to alarm. At the same time, smart car wireless charger phone holder also provides protections with over-current protection, overheat protection, short-circuit protection, over-voltage protection and other functions to ensure charging safety.
JOYROOM 2-In-1 Wireless Car Charger Mount Fast Charging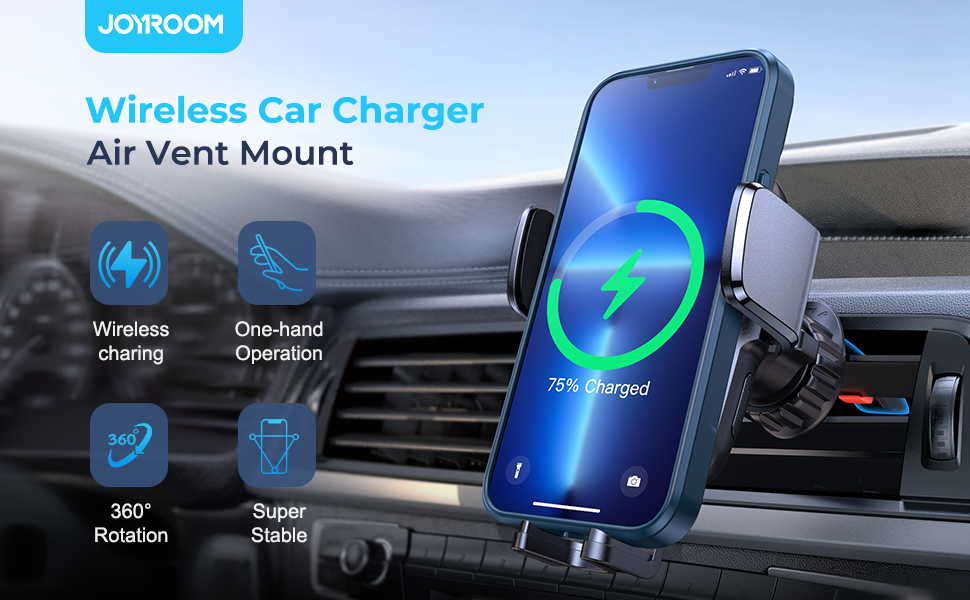 15W Car Phone Holder Mount Wireless Charging
The JOYROOM wireless fast charging mount/stand features an upgraded smart chip that provides safe and fast charging.

Not only can us charge our phone while driving, us can use GPS navigation, take hands-free calls, and keep your eyes on the road for safe driving.

Provides over-current, over-heat, over-voltage and short-circuit protection to ensure safe charging.
Universal Smart Car Wireless Charger Phone Holder
15W Qi Wireless Car Charger Mount
The wireless car charger mount can auto-identify the charging power of the device to improve the charging effect.

Max 15W charging for

 

LG G8 ThinQ/G8S/G7 ThinQ/G7/LG V50/V40/V30+/V30/V40 ThinQ

Max 10W charging for Samsung S22/S21/S21+/S20 /S20+/Note 20/10+ /9/8/7 S10/ S9/ S8/ S7/ S6

Max 7.5W charging for iPhone 13/13 mini/12/ 12 mini/ 11/ 11 Pro/ Xs Max/ XS/ SE/XR/ X/ 8/8 Plus

For 15W,10W, 7.5W fast charging mode,QC 3.0 car charger adapter is required (Not Included).
Never Dropping Vent Hook Clip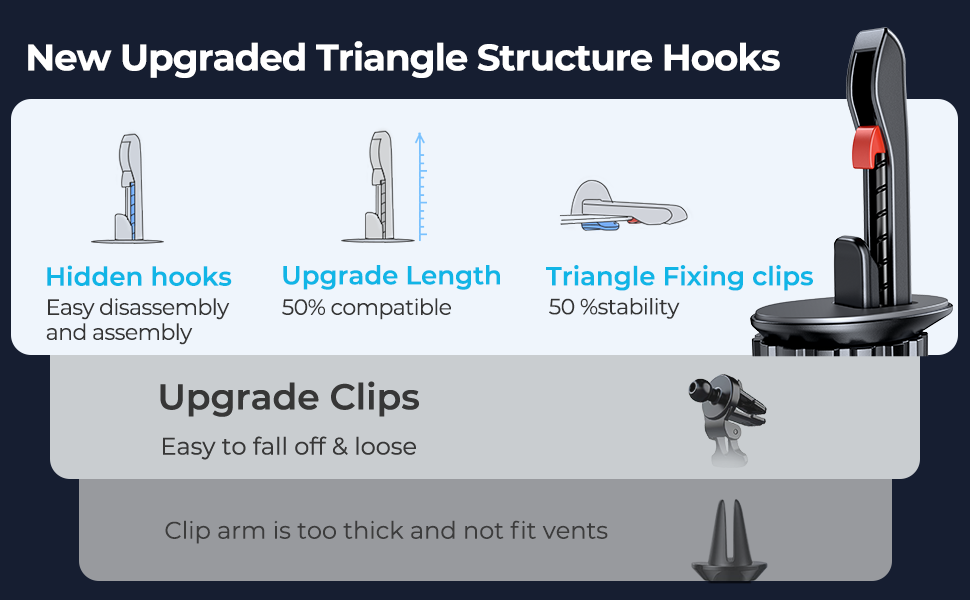 Upgraded Wireless Car Charger Vent Mount
The upgraded grooves and hooks form "three gripping points",Just turn the knob to tightly clamp the vent blades, even if we are on most rugged mountain roads and sharp turns road conditions wireless car charger mount will not have any loose.
Special Tips for Correct and Detailed Yet Simple Installation Steps
The most effective and correct way to install upgrade hooks for wireless car charger mount
Please note.
When installing, please note that the red side of the hook is used facing down; please refer to the above picture for details.

When installing on the vent, press the edge of the vent tightly and move away from the edge when you encounter obstruction.
Dual Heat Sink Port Wireless Charging Car Mount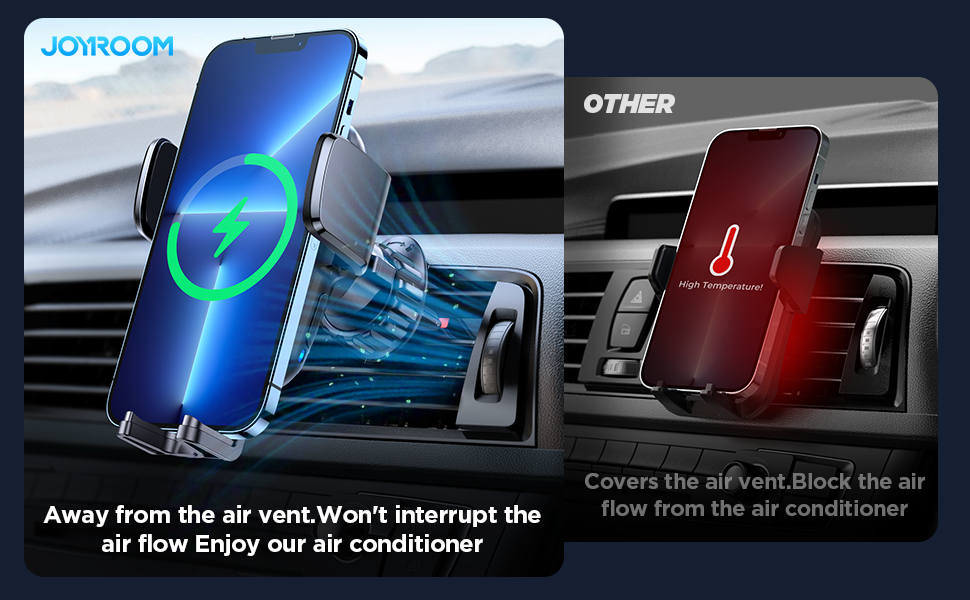 Heat Dissipation Design
The dual heat sink on the back ensures that our phone does not overheat and provides maximum charging speed.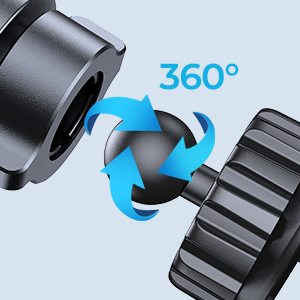 360° Free rotation wireless car charge
Adjustable swivel ball can rotate 360 degrees, can easily switch between portrait and landscape navigation, and the wireless charger car mount choose the most comfortable viewing angle according to our needs. It is the safest way to access cellular systems such as GPS and phone.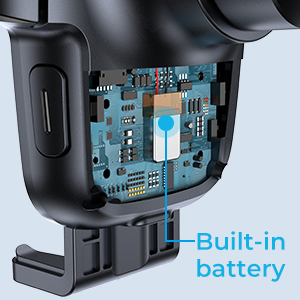 Built-in the latest super capacitor
Wireless charging car mount can also remove our phone by pressing the button after the car is turned off. Note: The capacitor battery capacity can only be turned on 2-3 times. This car phone holder mount wireless charging can provide over-current, over-heat, over-voltage and short-circuit protection to ensure charging safety.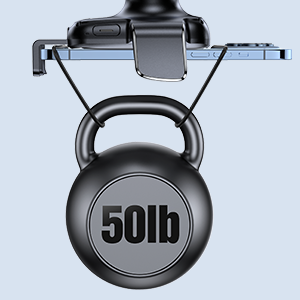 Upgrade ring hugging design,avoid dropping
Wireless charger car mount break the traditional design, thickened silicone. The silicone strip on the arm & bottom adopts 15° hugging design, even after hanging heavy objects, the phone will not fall down.