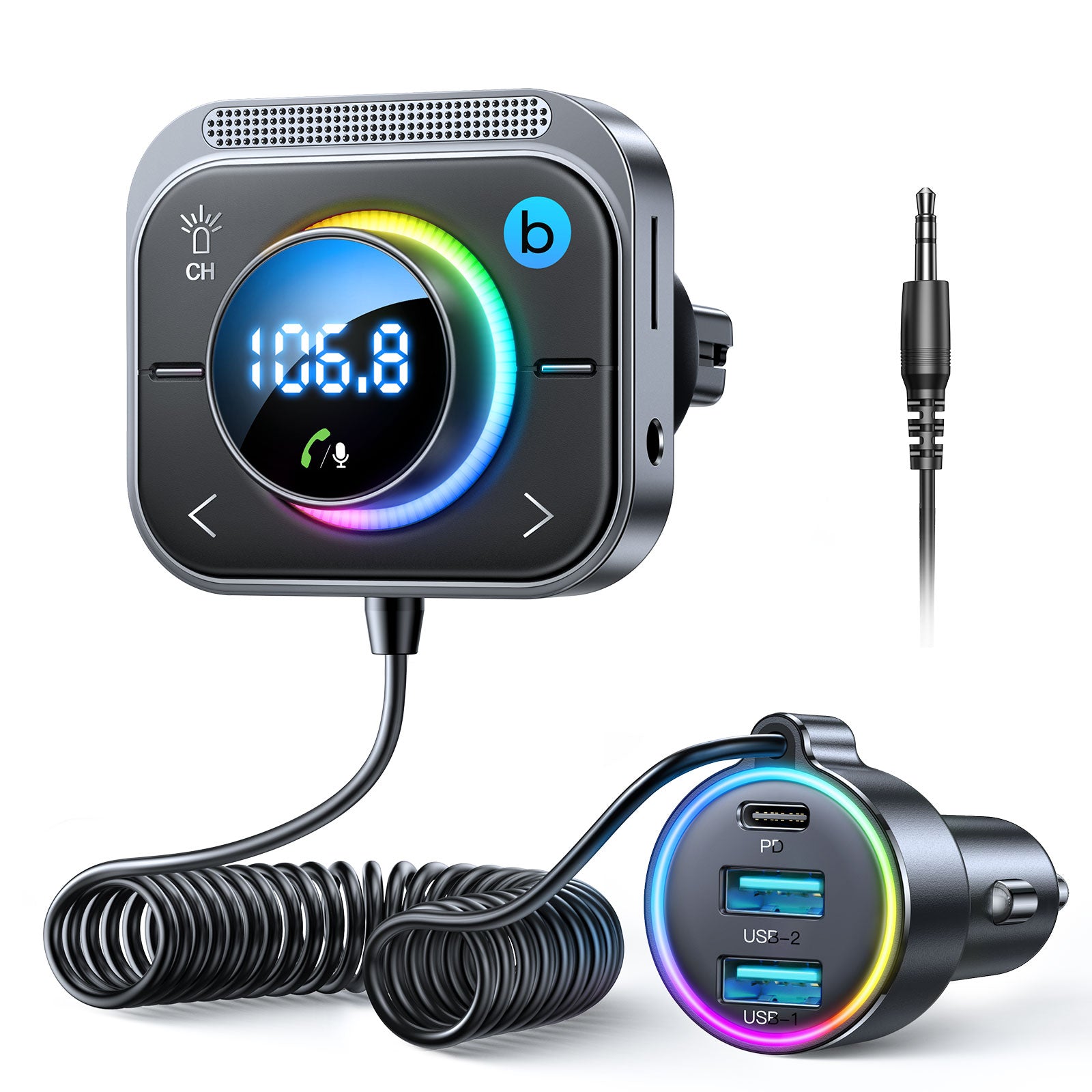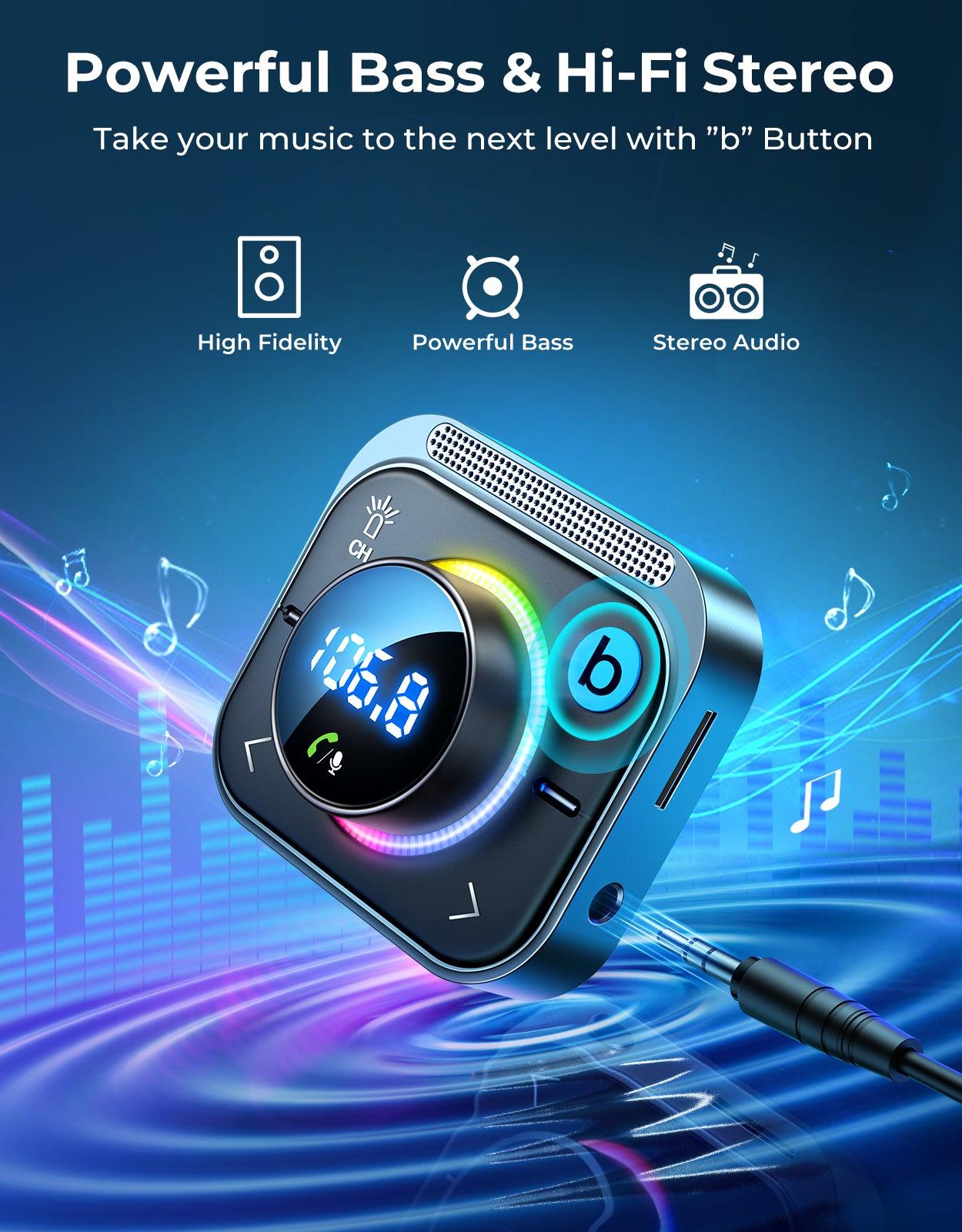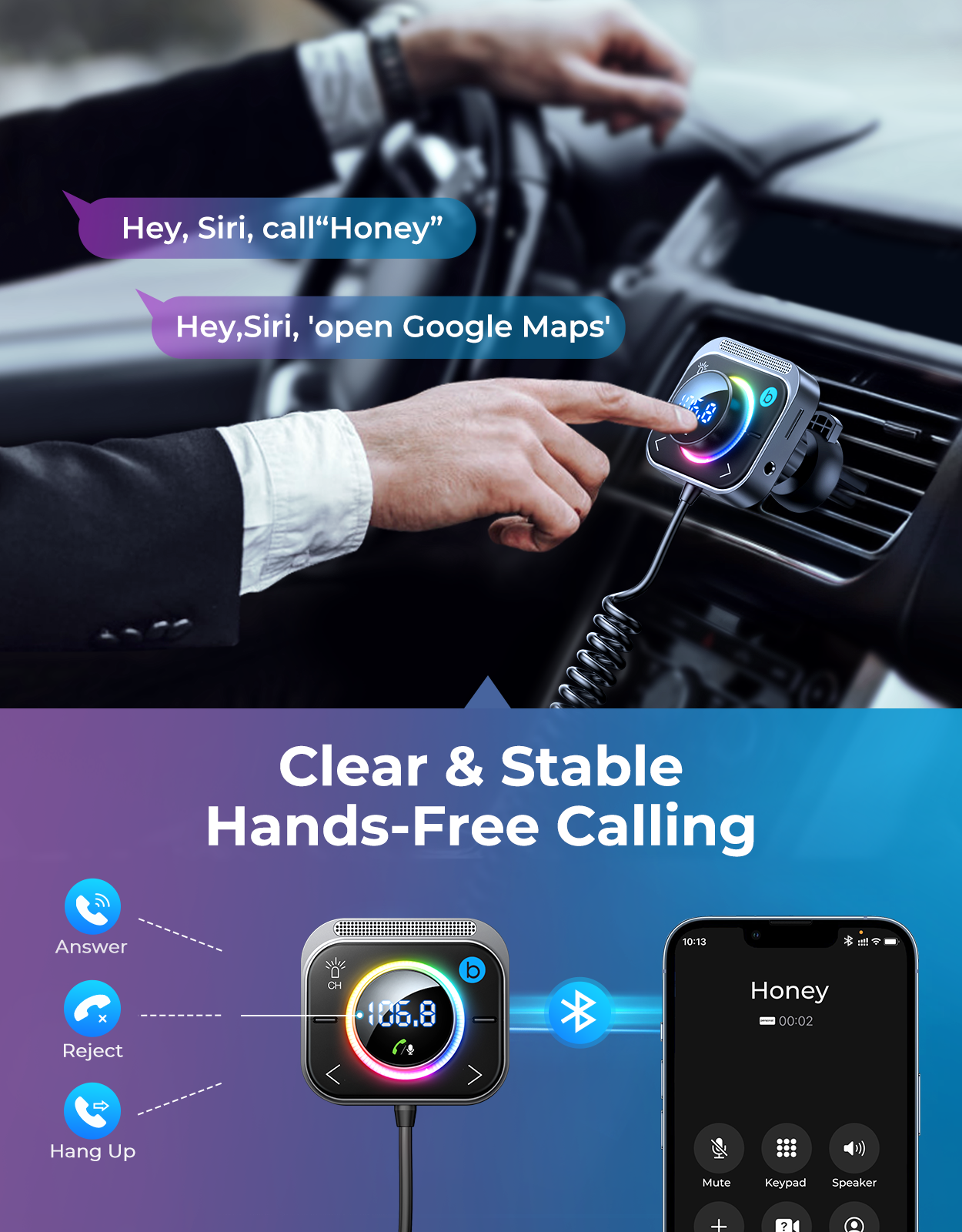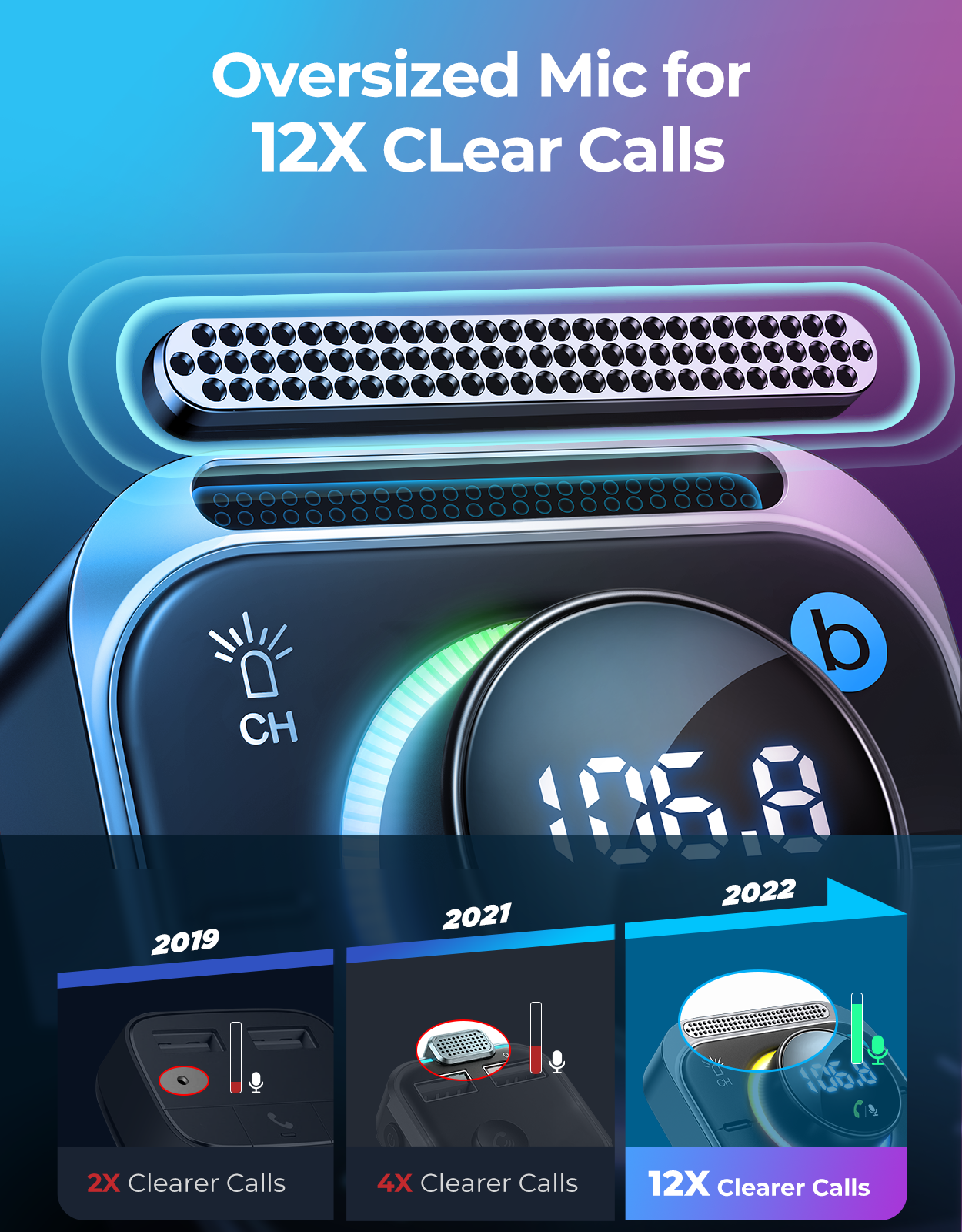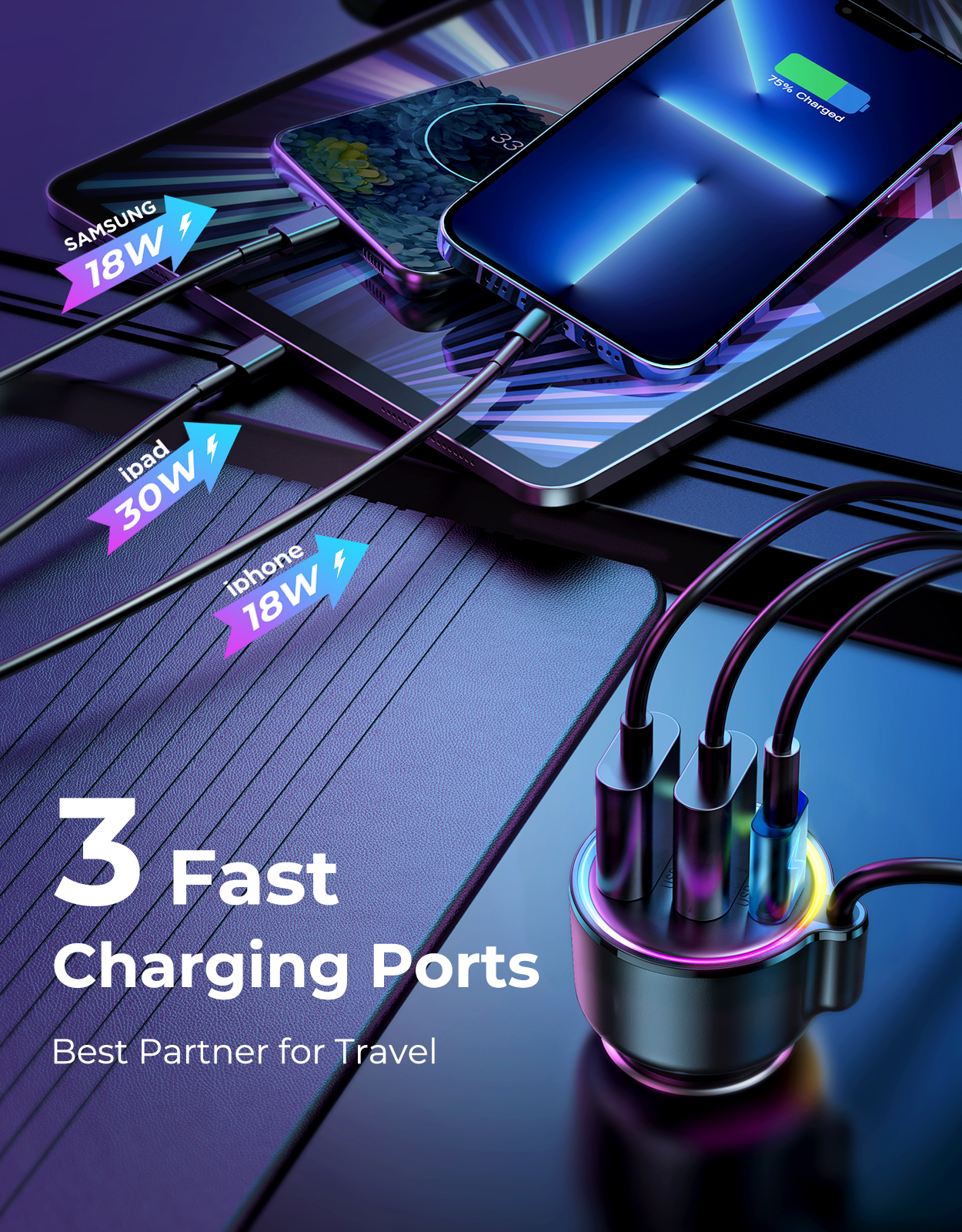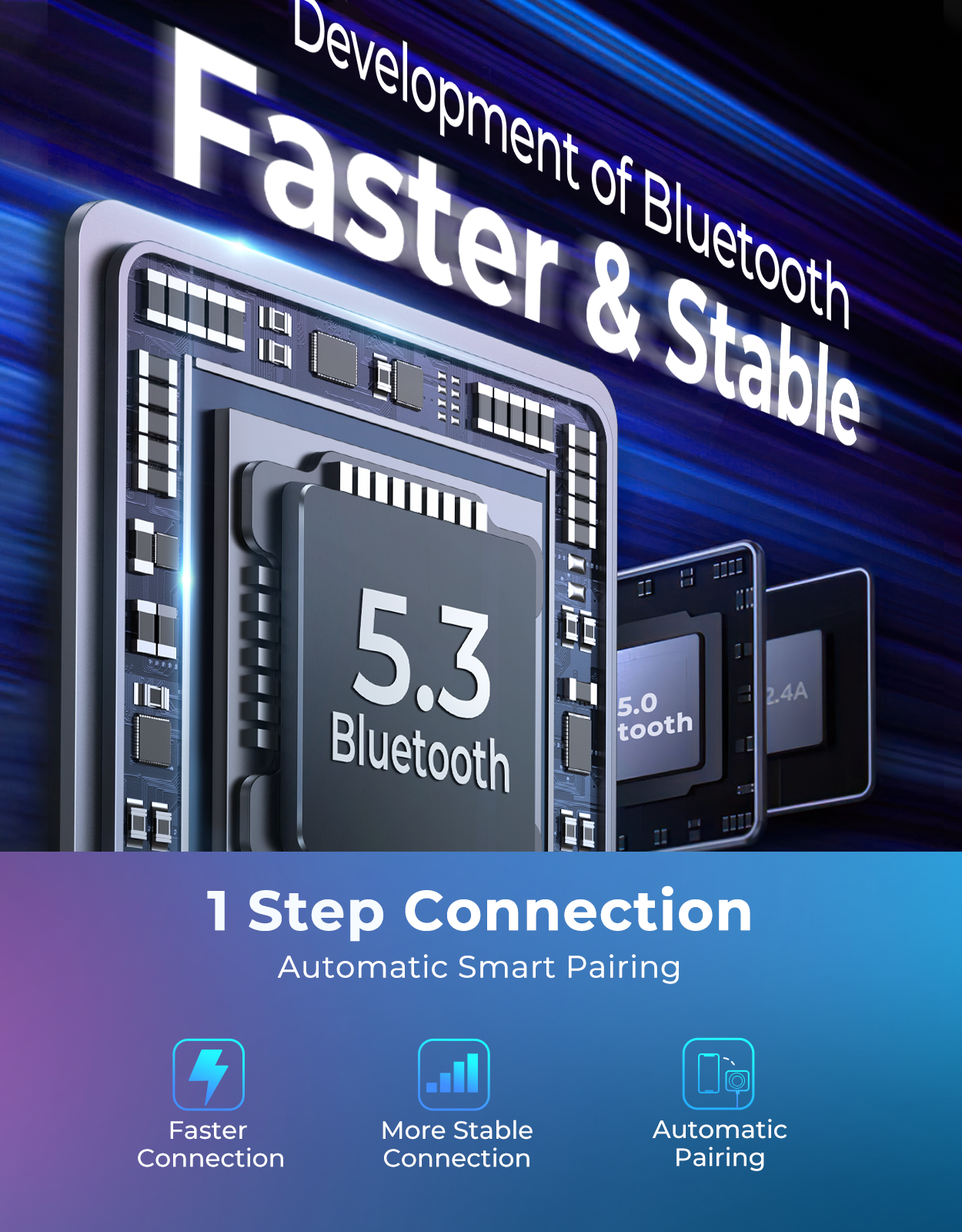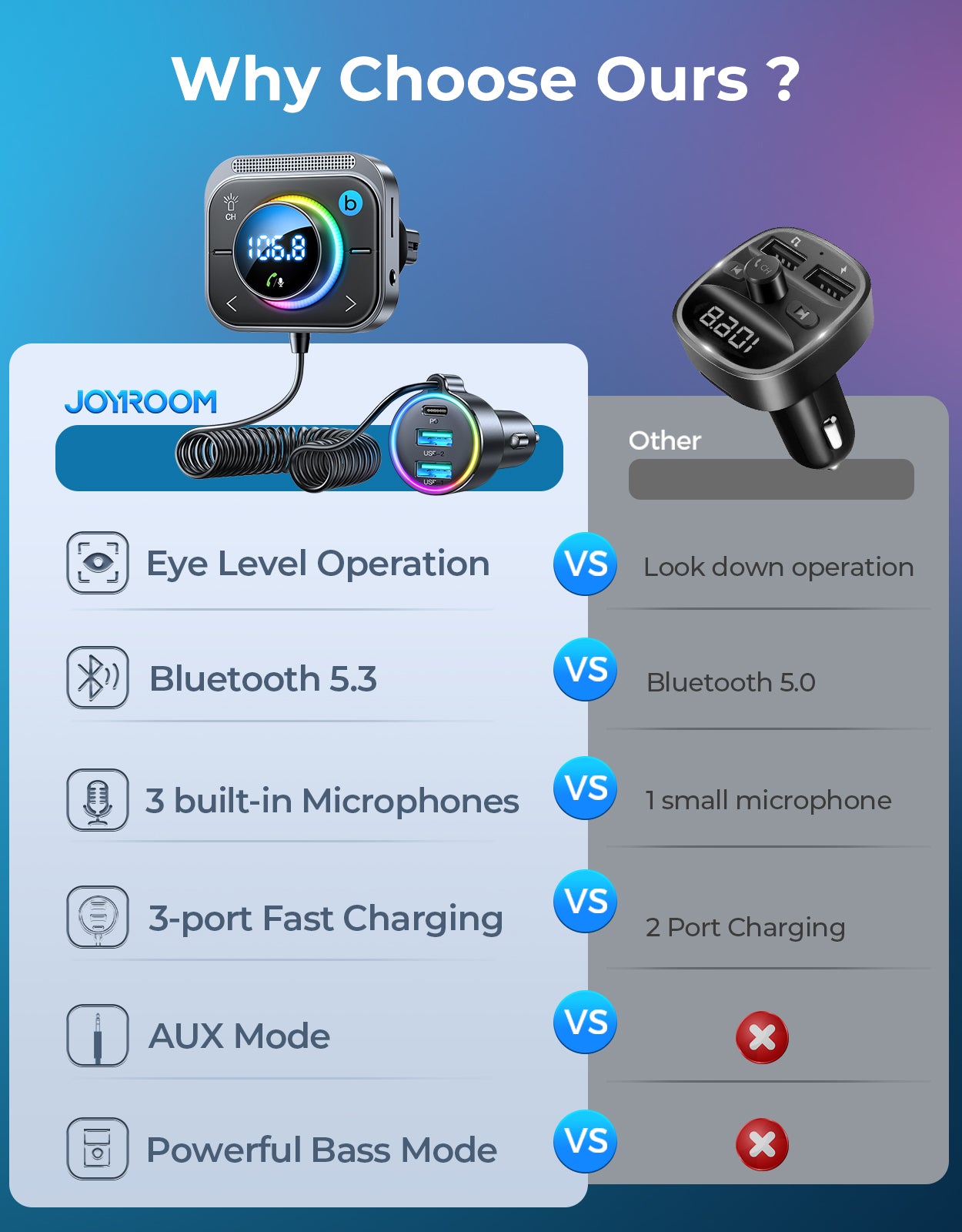 JOYROOM【Air Vent Installation & Bass Boost】 3 Ports PD&QC 3.0 FM Transmitter for Car, Radio Bluetooth Receiver for Car HD Calling and Enjoy Music
Product details
| | |
| --- | --- |
| Size | Small |
| Brand | JOYROOM |
| Connectivity Technology | Bluetooth |
| Input Device Interface | Bluetooth |
| Model Name | JR-CL18 |
| Connector Type | AUX |
📻【FM Transmitter & AUX Adapter】JOYROOM Bluetooth FM transmitter can be easily used in cars without built-in Bluetooth. It doesn't need to be charged, just plug into a 12-volt outlet and tune to a specific radio station. If your car has a 3.5mm jack, its AUX mode definitely the easiest way to go, it can play straight through your car (no radio frequency required) with true zero distortion sound quality. (Package comes with a 3.5mm AUX cable)

🎵【Hi-fi Bass Boost】After self-optimizing the sound, this FM transmitter will transmit high-fidelity, well-balanced audio from your device to the car system. Just press the button "b" to Immerse yourself in powerful deep bass and stereo sound. A bass-heavy audio performance makes it ideal for driving because it's powerful enough to cut through wind noise.

🚗【Much Safer Driving Experience】Bluetooth car adapter mounted to the air vent would be closer to your eye level. It is so nice that you don't need to lower your head. Its comparatively bigger button allows you to easily adjust without worrying about pressing the wrong button. Compared to other adapters that directly plug into the car socket, it does not distract much attention from driving, much safer.

📞【Clearer Calls & Siri/Google Assistant】Enhanced microphone with 2-3 more sound-collecting ports than other car Bluetooth FM transmitters in the market, making sound pickup easier. The latest CVC 8.0 noise reduction technology can filter out background sounds (such as wind from vents and outside) to get clearer calls on both ends. Long pressing the middle button can also wake up Siri/Google Assistant for GPS audio, stream your music, etc.

🔋【Three Ports Charging&LED Light Design】Car Bluetooth Adapter can charge three devices simultaneously via one PD 30W Type-C and two QC3.0(18W per) USB charging ports and will auto-assign the best charging efficiency. The PD Port supports iPhone Series/Samsung fast charging. The QC 3.0 port can charge most Android devices from 0% to 60% within 35 minutes. When night comes, LED lights can make it easier for you to find the charging port.

👑【Bluetooth 5.3】Built-in the latest Bluetooth 5.3 chip, which can provide faster pairing and a more stable connection for uninterrupted music and calls. With a powerful memory function, this Bluetooth radio transmitter for car can auto-reconnect to the last used device every time you get in your car and the audio will auto-resume where it was paused.
Way 1: Wireless Bluetooth Connection
Tune the car radio to

 

FM Radio

. Please note that the compatible frequency mode is

 

FM

 

and not AM.
Tune the car radio to a

 

Blank Station

 

in your area.

 

Blank Station refers to the local

 

UNUSED

 

station (no vocals or music, just rustling).

Plug the 3-port Car Charger into the cigarette lighter or power port.

Long press the

 

"CH"

 

button, Adjust FM Transmitter to the EXACTLY SAME frequency as car radio. Once the FM transmitter and your car radio are successfully synced, it will instantly become very

 

Quiet

. ---If not, choose another frequency.
Using the Bluetooth function for the first time, you need to pair your mobile device with this FM transmitter. Activate your phone's Bluetooth function, then connect to

 

"CL18". Then you can play any song you like.
Way 2: AUX Connection(Lossless sound quality)
Pair your phone with FM transmitter via Bluetooth

Connect FM transmitter and car AUX port with AUX cable
Way 3: TF Card
Tune the car radio to an

 

UNUSED STATION/BLANK CHANNEL

 

(Support 88.1-107.9 Mhz)
Long press the

 

"CH"

 

button to enter FM mode, Pair FM transmitter with car radio channel

Pair your phone with FM transmitter via bluetooth

Insert the TF Card into the Card Slot of the FM transmitter
Q: Is an FM transmitter bad for the car?
A: No, the transmitter should not impact any aspect of the car whatsoever.
Q: Why is there static when playing music in the car?
A: Please tune to an UNUSED STATION/BLANK CHANNEL before use, then pair FM transmitter with car radio channel.
Q: Why can't the phone be charged fast?
A: Check whether your phone supports the charging protocol of the product and whether the charging cable used supports fast charging.
Q: Can the lights be turned off?
A: Yes, just short-press the light button to turn it off.
Q: What kind of connection methods are there?
A: Wireless Bluetooth Connection/AUX Connection(Lossless sound quality)/TF Card Connection
Powerful 3-port Charging
PD 30W Type-C

QC3.0 18W

QC3.0 18W
3 Reading Modes
This radio adapter supports Bluetooth play, TF card play (up to 64GB), and 3.5mm AUX output, which meets your various needs.
Enlarged Big Button
Its comparatively bigger button allows you to easily adjust without worrying about pressing the wrong button.