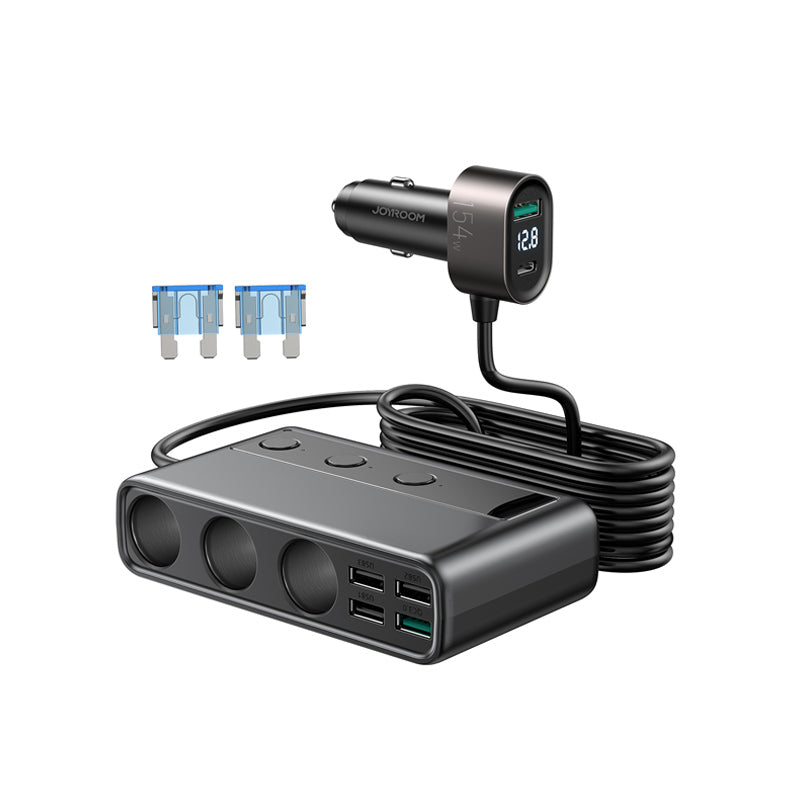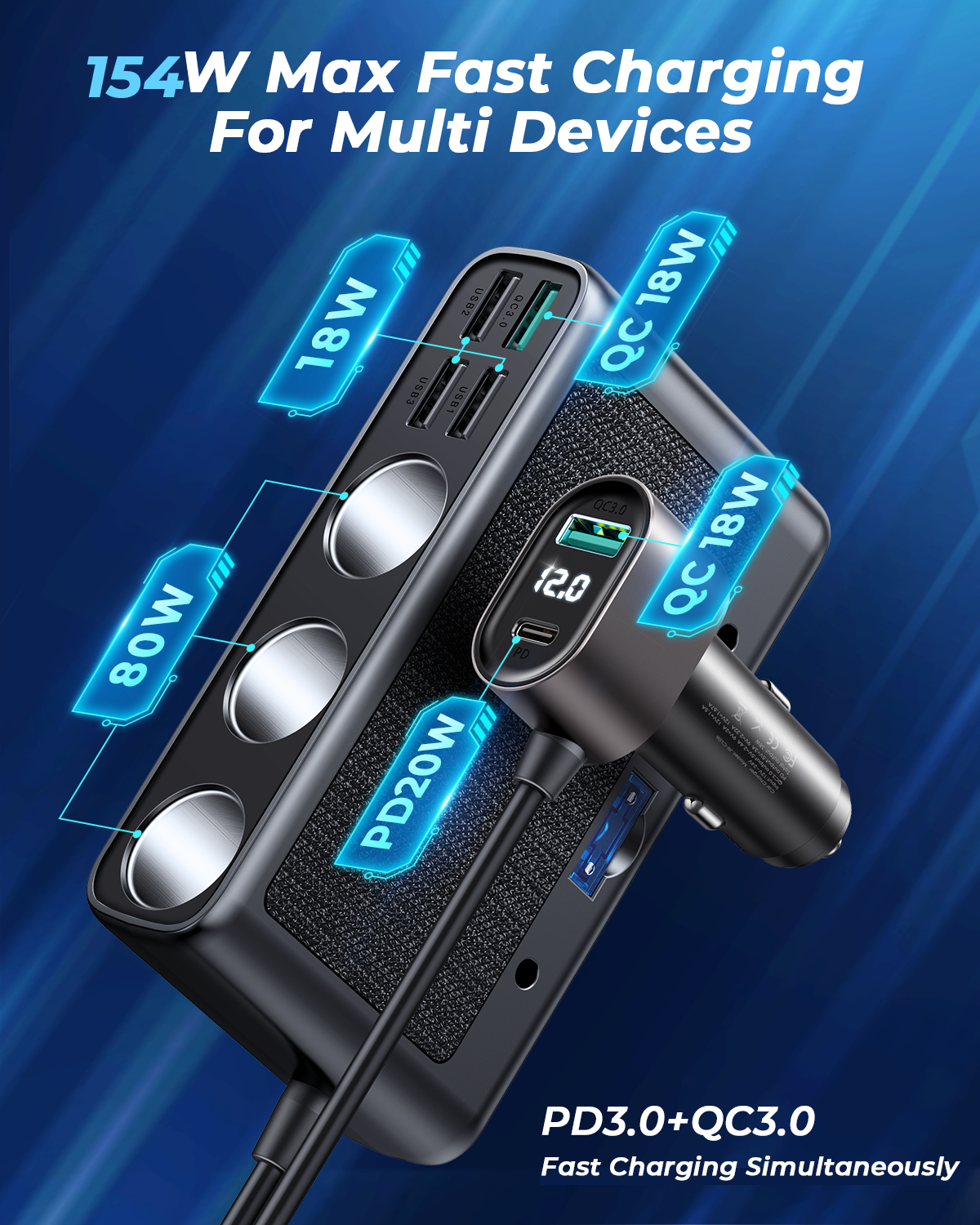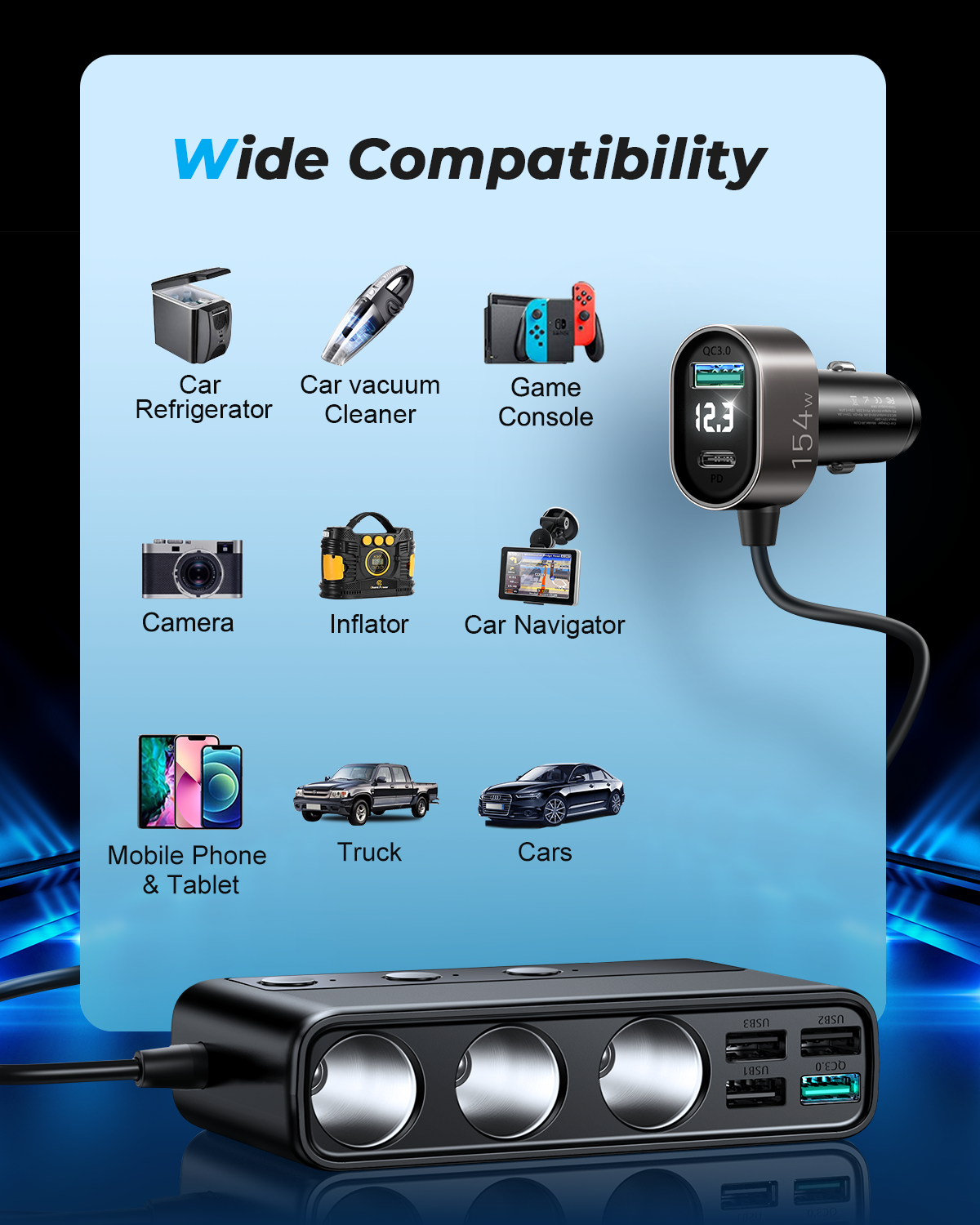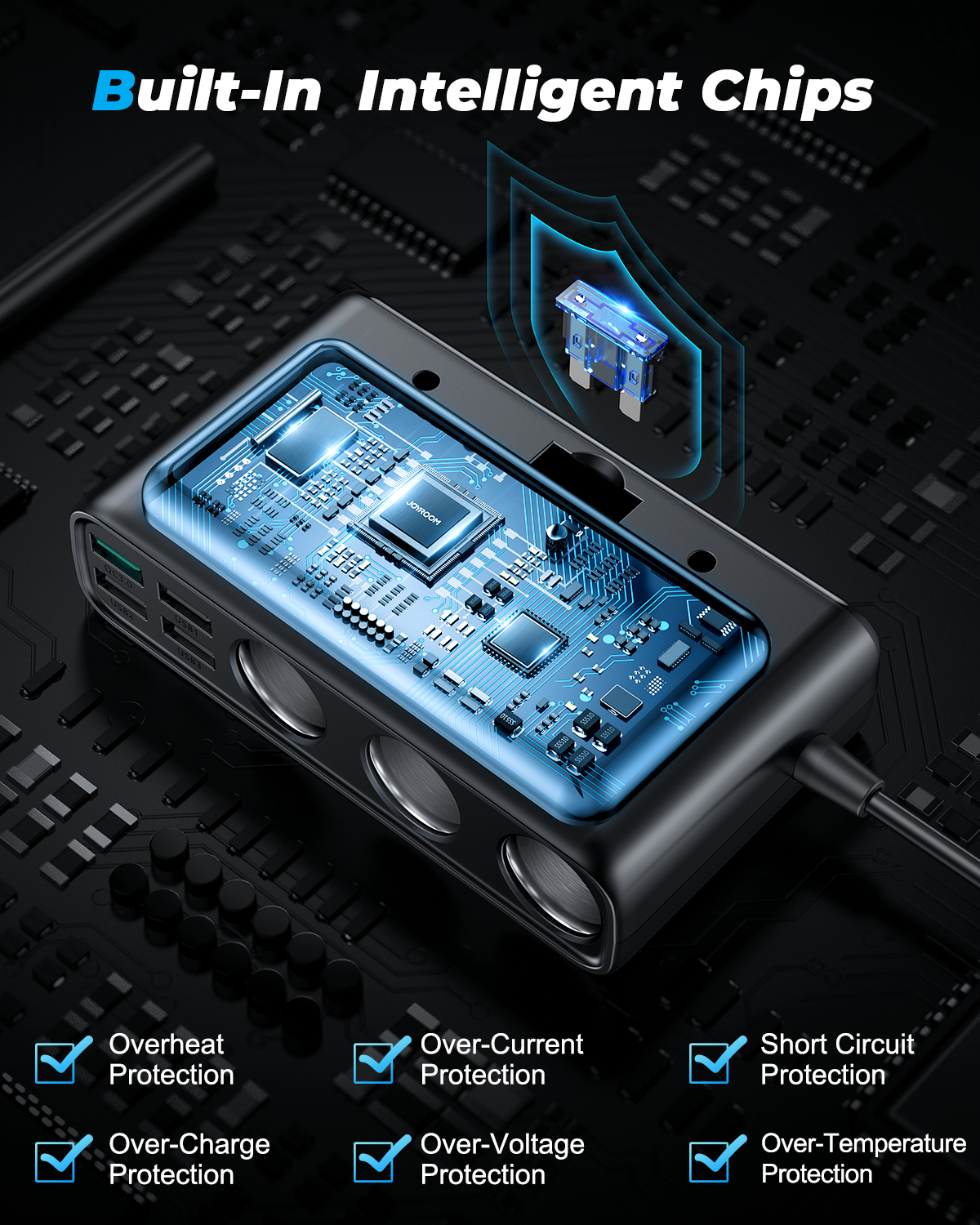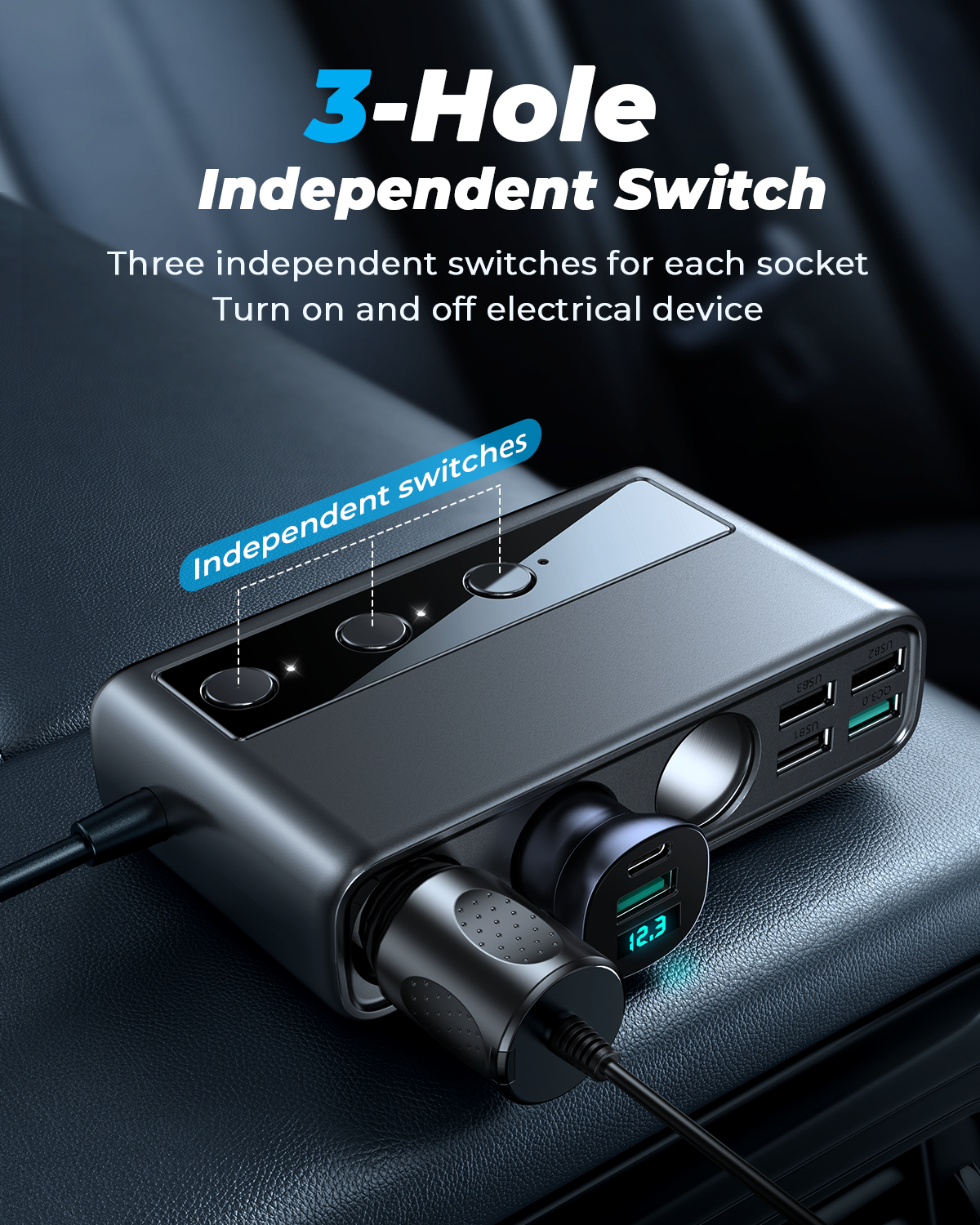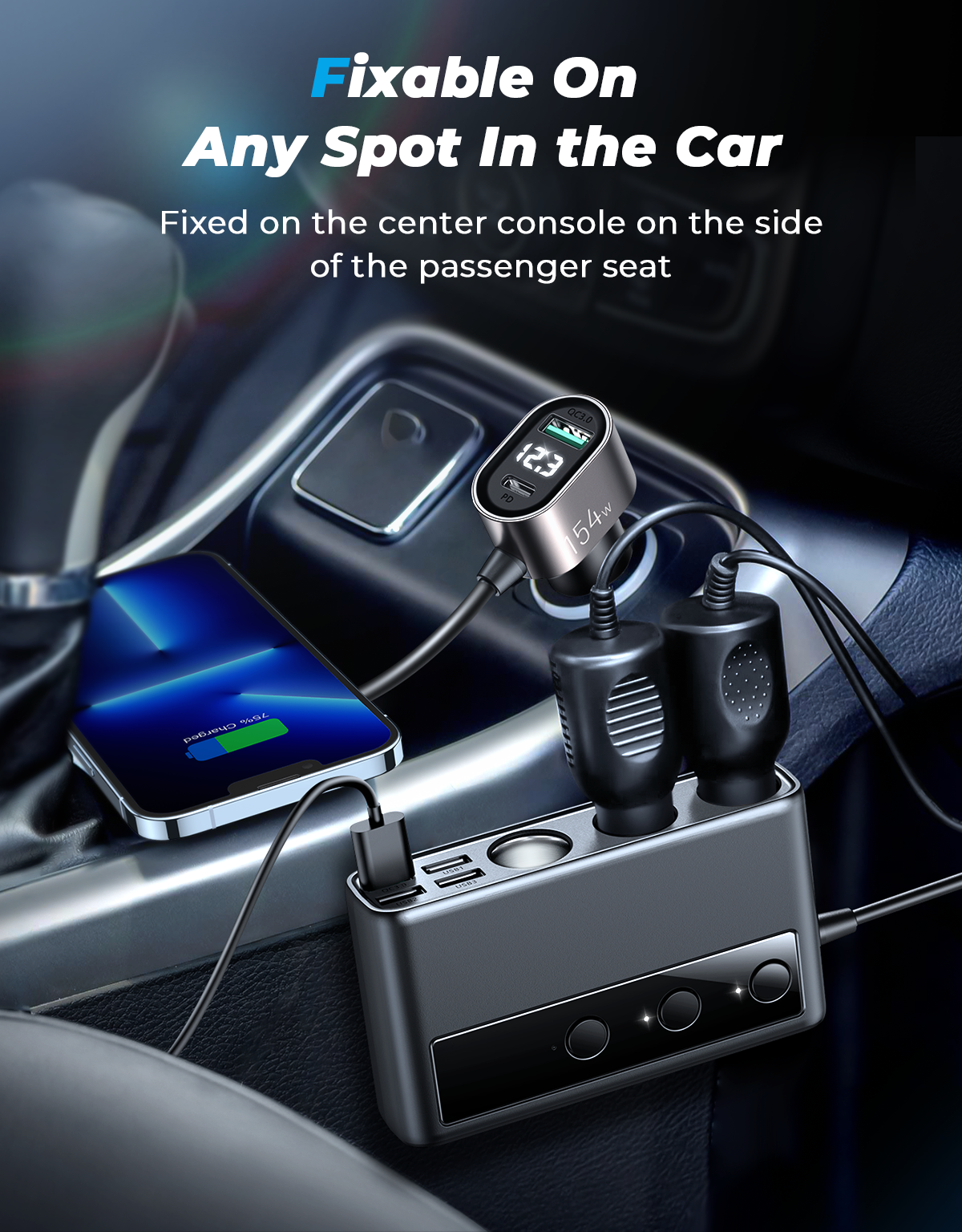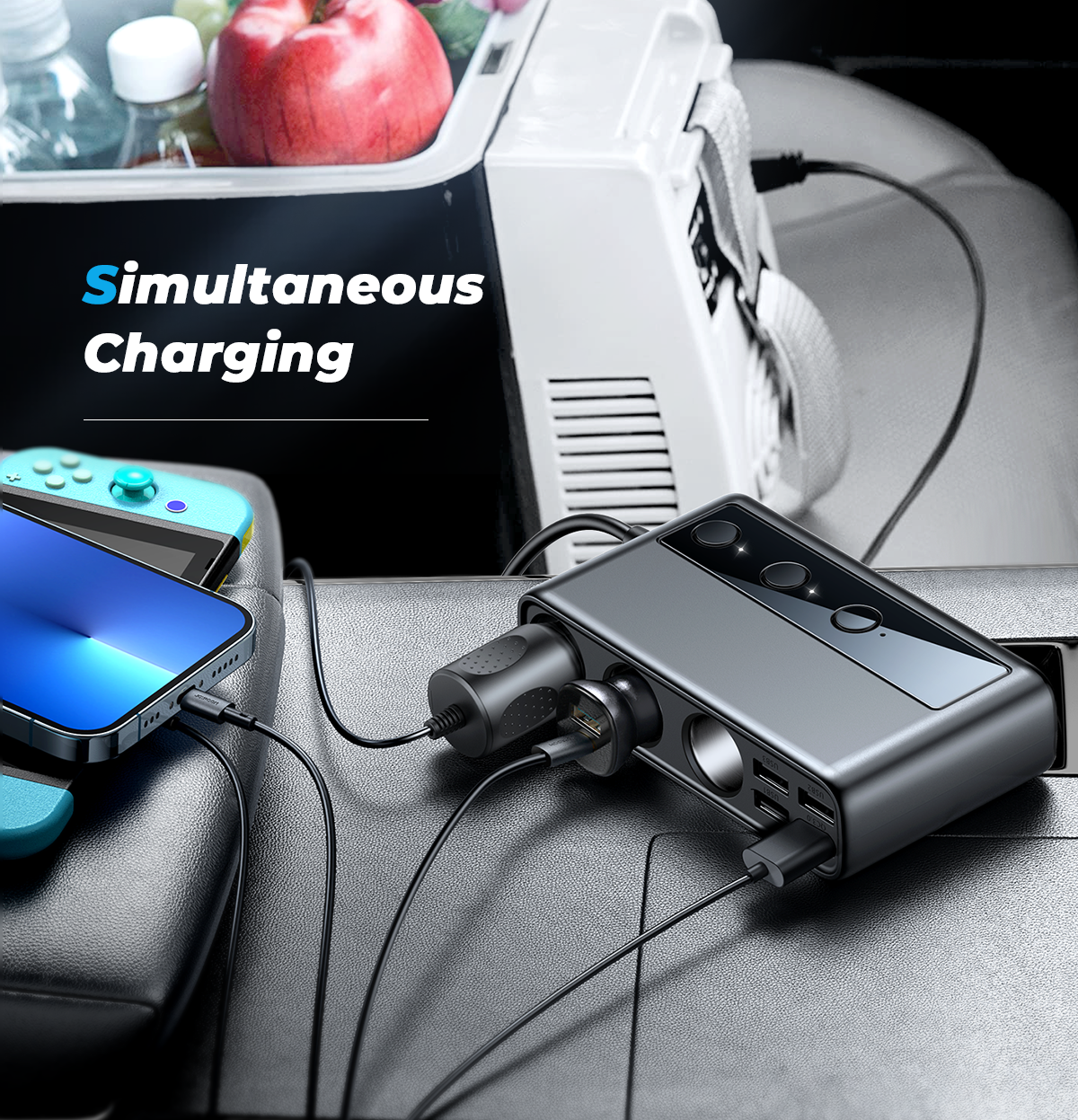 JR-CL06 154W Car Charger Adapter with 3 Sockets+6 Ports (PD+QC3.0+USB*4)
Customer Reviews
100
reviewers would recommend this product
Write a Review
Best in quality
This product is the best in quality. I've had other splitters melt on me, but this one is made with a quality that I haven't seen in any other product.
Exceeds expectations
It really exceeded my expectations! I got it for a road trip to charge a DVD player and multiple phone chargers, and it worked great.
Good
Thank you, this is very good!
Es bueno
Es bueno para conectar una wescam y un adaptador de Bluetooth, pero no hay suficiente espacio para un tercero debido al tama?o de los adaptadores.
Best Multi Charge Port I Have Ever Purchased
This is the best multi-charge port I've ever purchased! As a new mom, I needed something that could charge multiple devices at once, and this product can charge up to 9 at a time. It works great, but the adhesive that came with it didn't hold the charge port in place for very long. I'm looking for a replacement adhesive, but overall I would definitely recommend this product.
Features:
1. Multi-port car cigarette lighter: digital display screen (white light) design, real-time no-load/load voltage display, safe charging guarantee without damage.
2. Place freely & long extension cable: 1m long cable, free to put the back-seat car charger at any position, the magic nylon pasting tape cigarette lighter can paste in any position, free to enjoy the charging experience.
3. Wide compatibility: The 3-in-1 car cigarette lighter port and the 5 USB ports, plus the 1 Type-C port can supply power at the same time. It supports charging automobile data recorder, heating car seat, vacuum cleaner, inflation pump, car refrigerator, mobile phone and pad simultaneously. High power output and high charging speed.
4. Easy to plug& unplug: the car charger is equipped with anti-skid shrapnel on both sides, stable to plug and resistant to bumping roads.
5. Independent switch design: 3 back-seat key switches can independently control the current of the cigarette lighter, and is equipped with white light display design.
6. Multi-protocol compatibility, intelligent current distribution, time-saving and no damage: it supports iPhone PD3.0, QC3.0, Samsung AFC, and HUAWEI FCP fast charging protocols, and the multi-port charging design supports charging the devices simultaneously, which can save charging time. Intelligent chips can reasonably distribute current, and they will not hurt mobile phones or cars. High resistance PC fireproof material provides a charging guarantee.
Specifications:
Model: JR-CL06
Material: aluminum alloy + PC fireproof material
Input: DC 12-24V
QC3.0 output: 5V⎓3A, 9V⎓2A, 12V⎓1.5A
PD output: 5V⎓3A, 9V⎓2.22A, 12V⎓1.67A
Total output power: 38W
Back seat
Input: DC 12-24
QC 3.0 output: 5V⎓3A, 9V⎓2A, 12V⎓1.5A
USB1+USB2+USB3: 5V⎓3.6A
Total output power: 36W
Car cigarette lighter * 3: 80W (Max)
Total power: 154W
Car charger size: 74.5*38*23.3mm
Cigarette lighter size: 70*125*31.5mm
Cable length:1.0m
Net weight: 195g