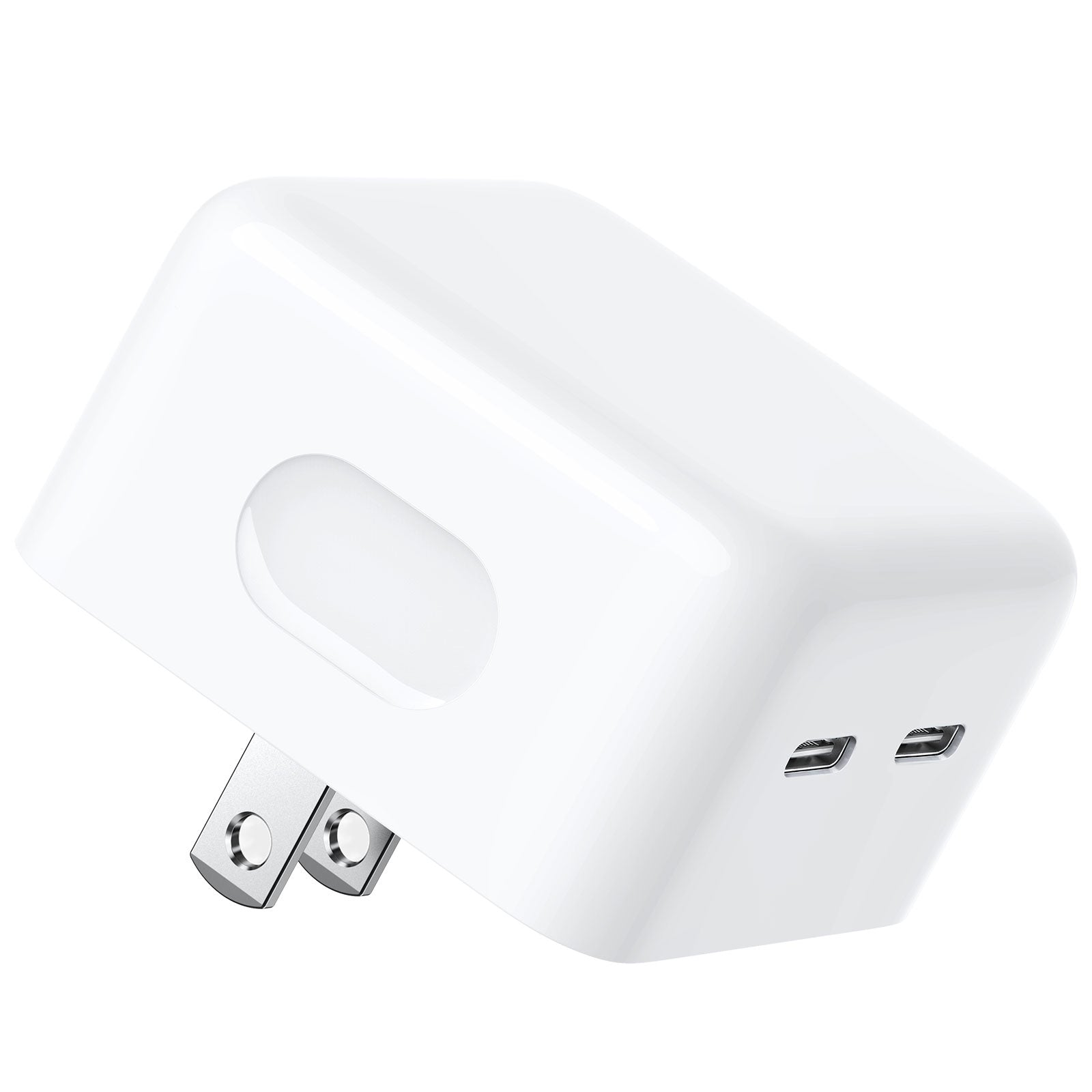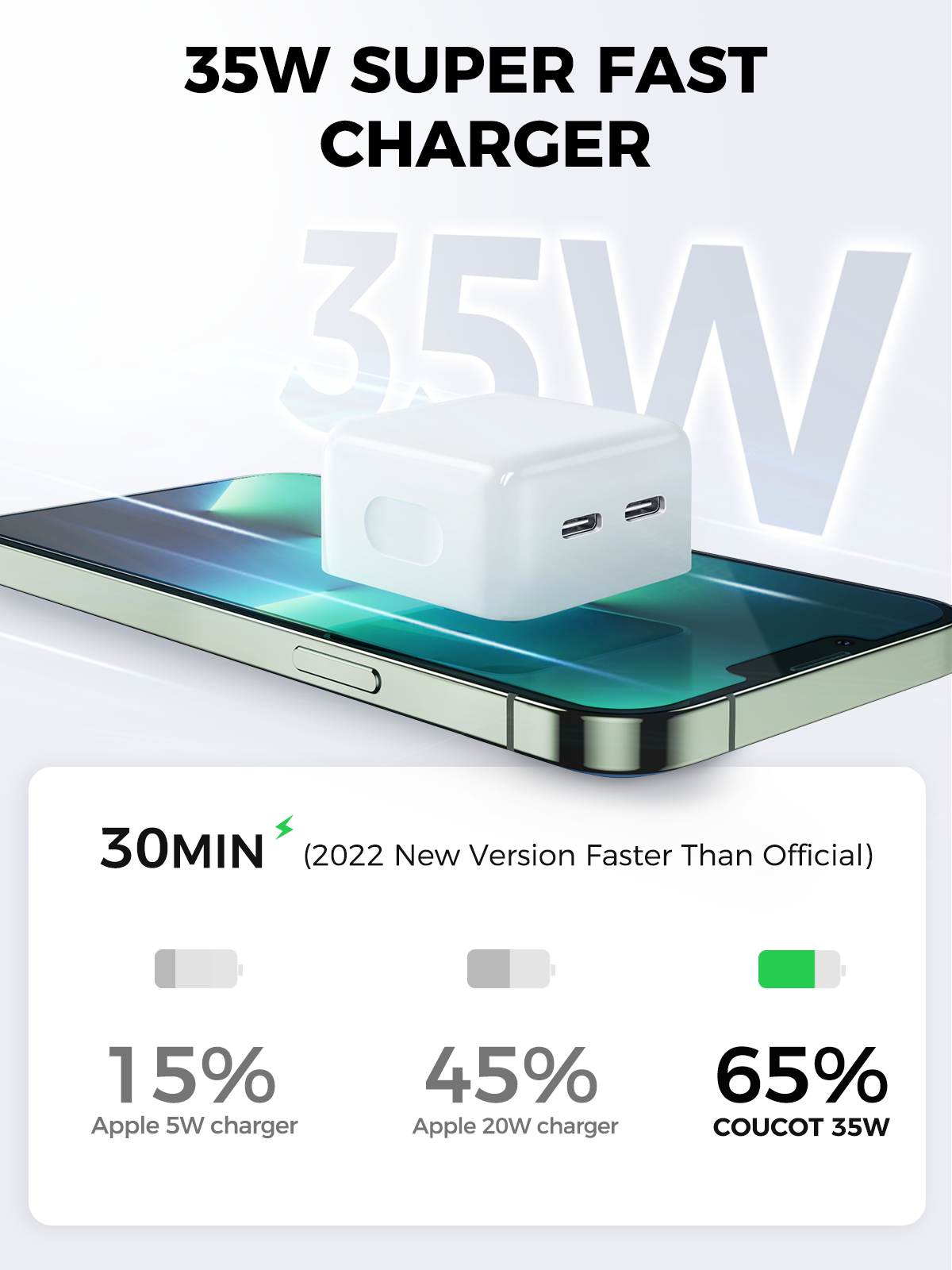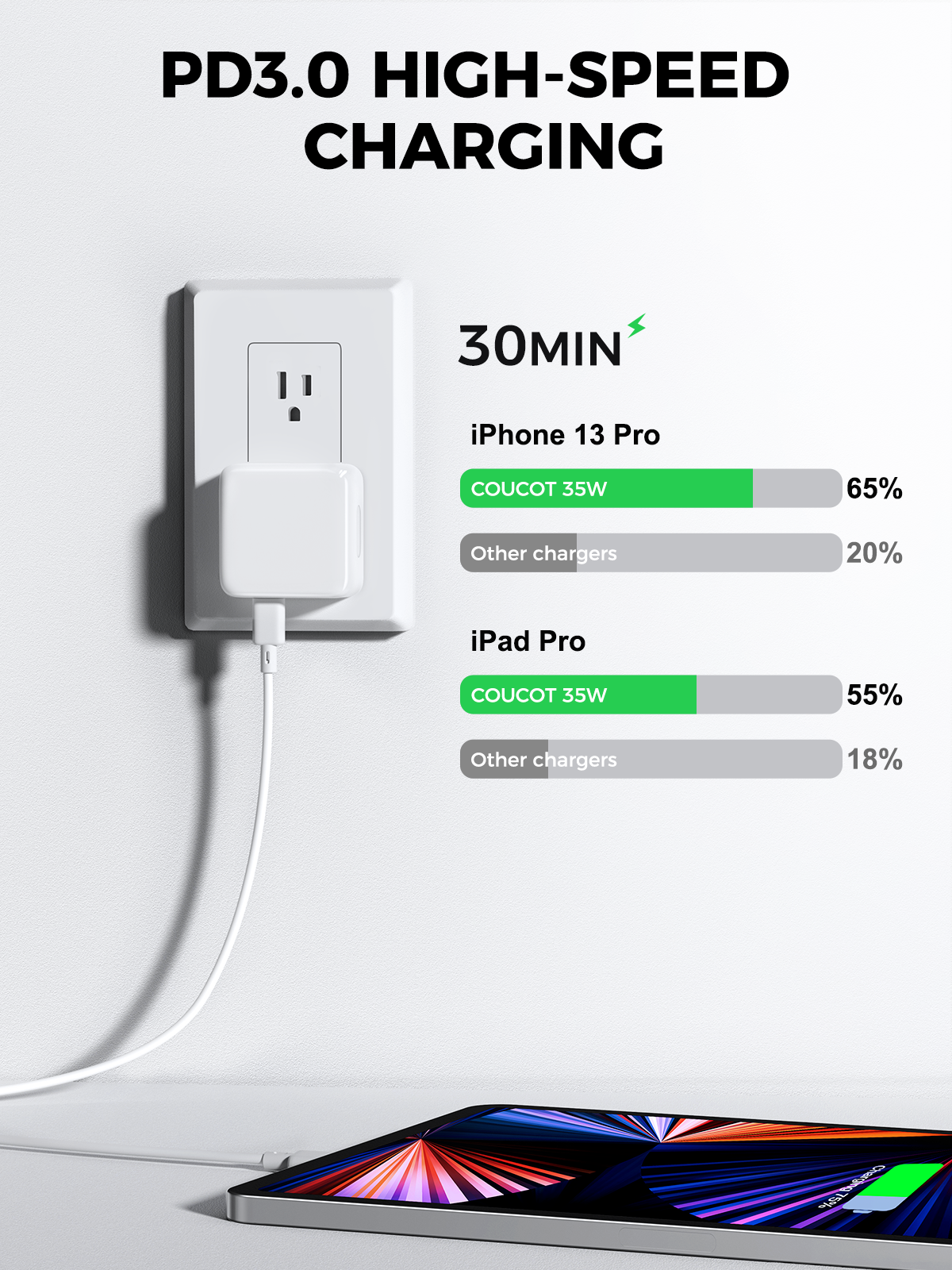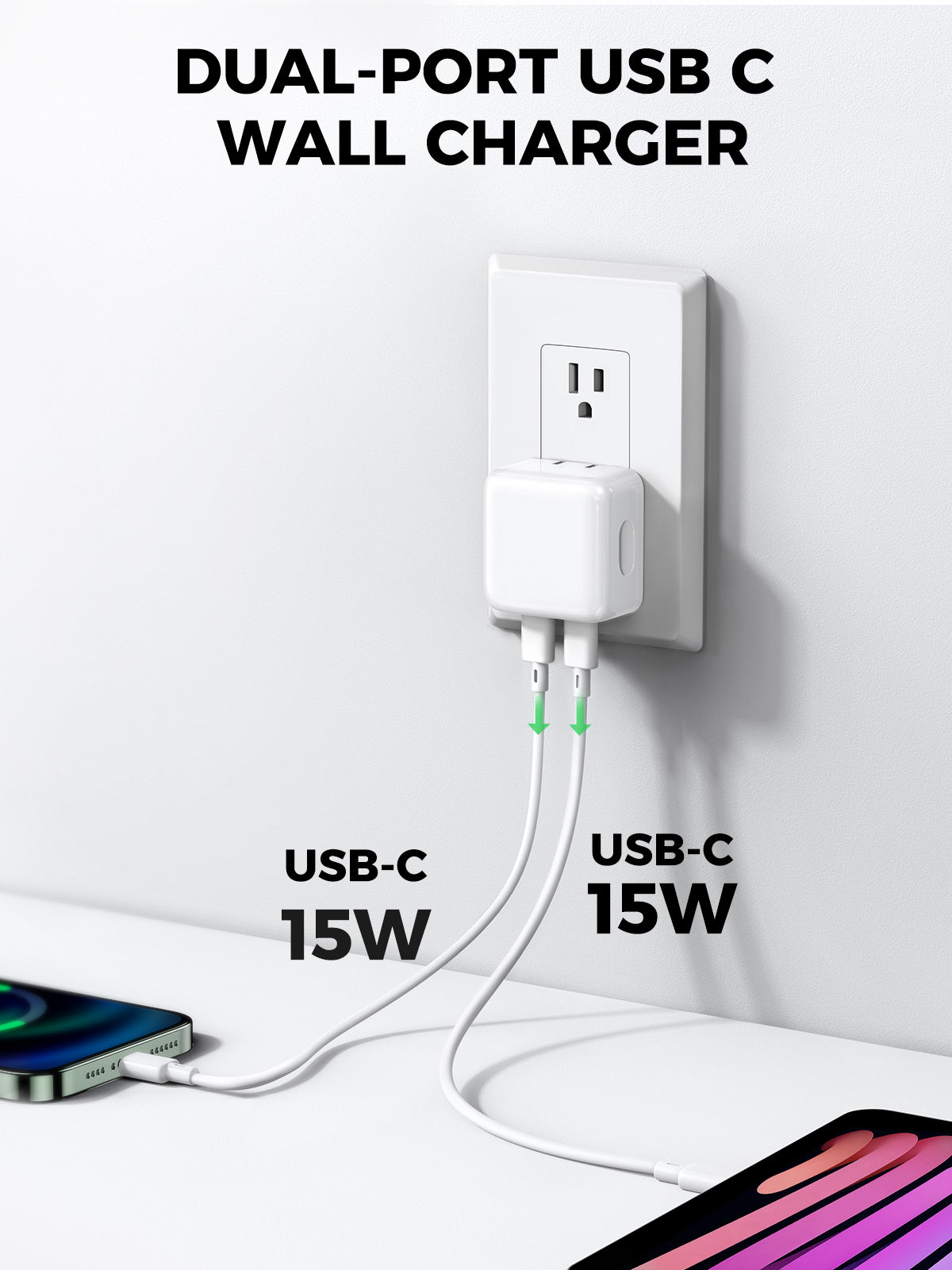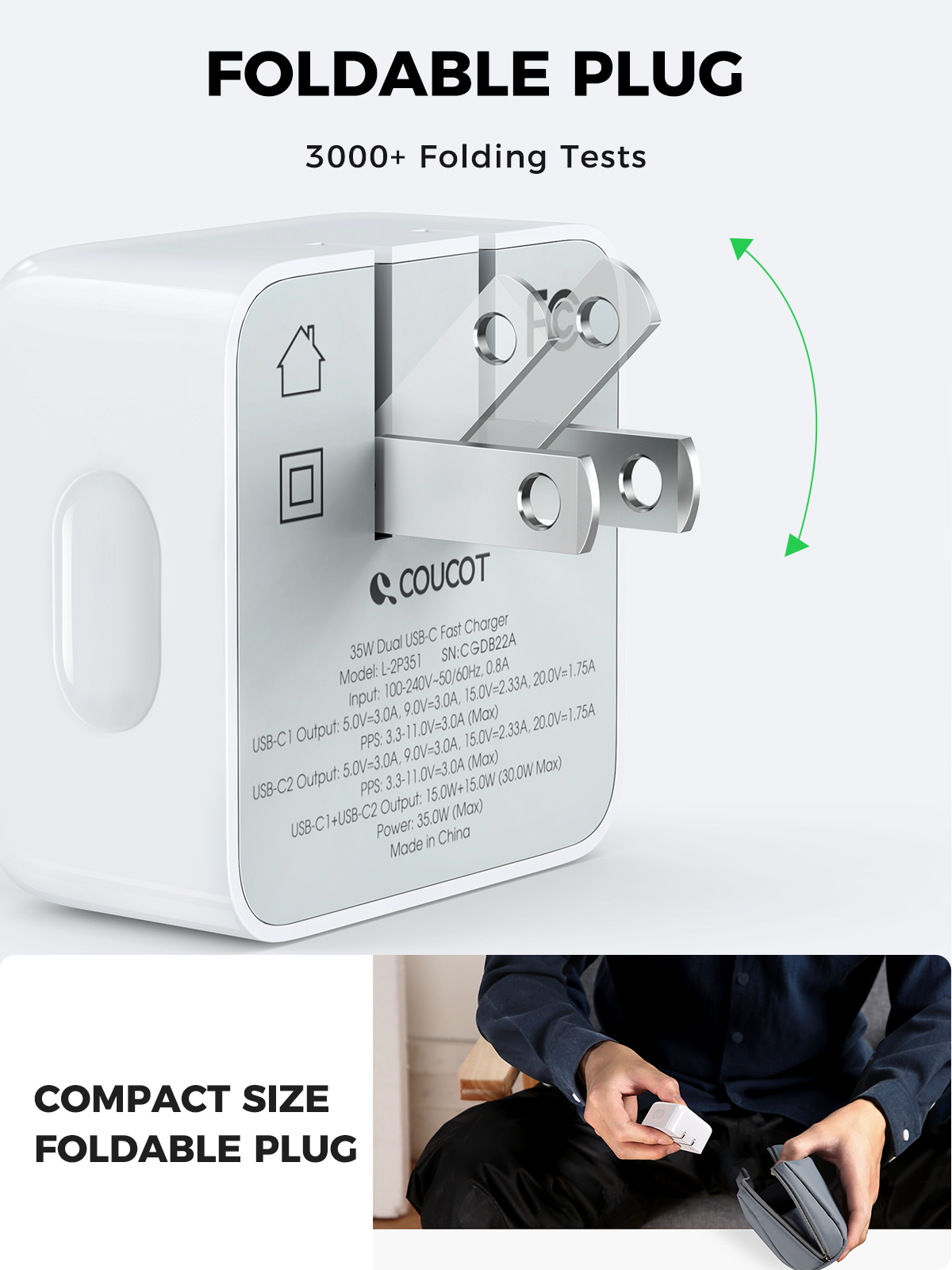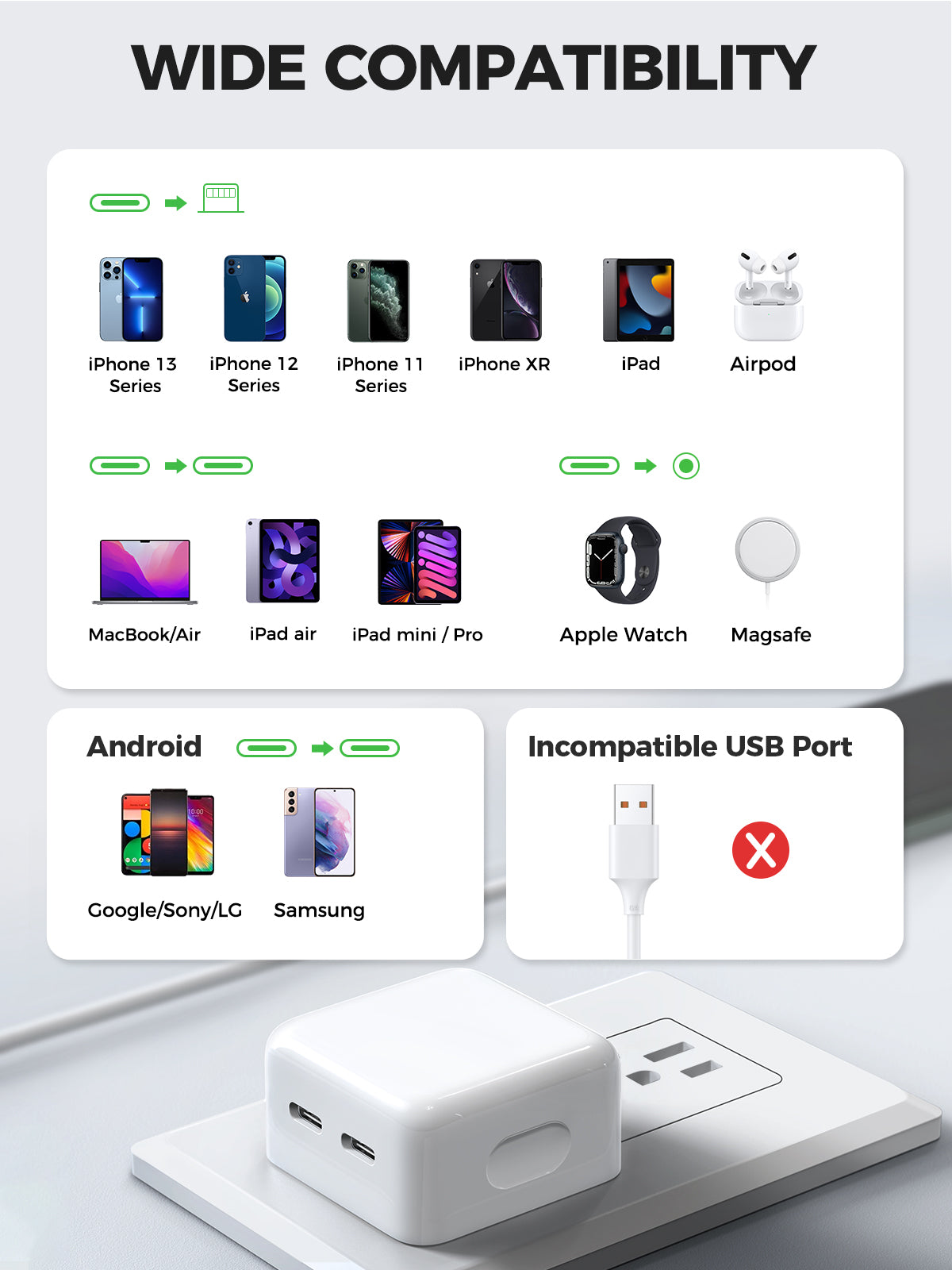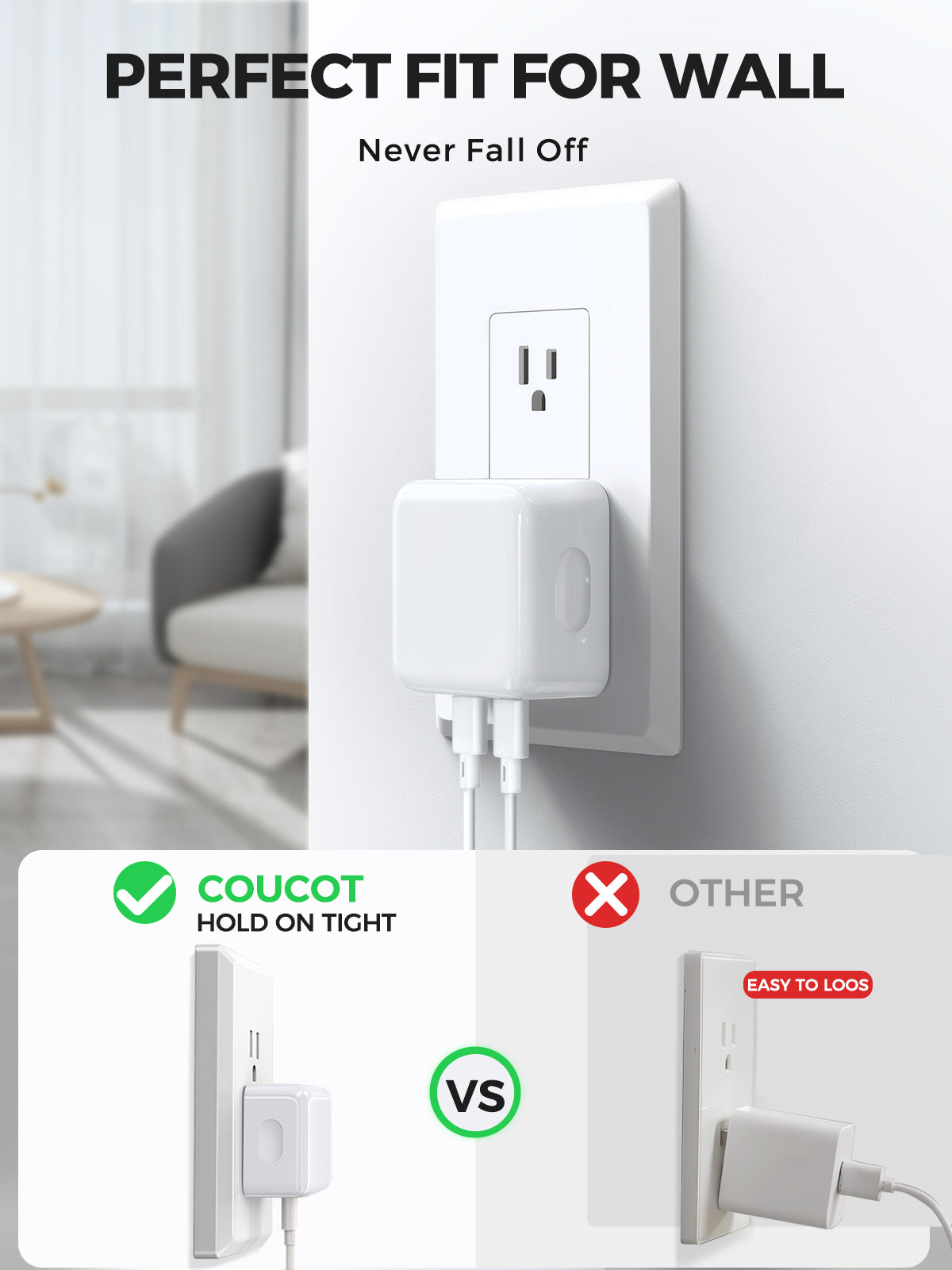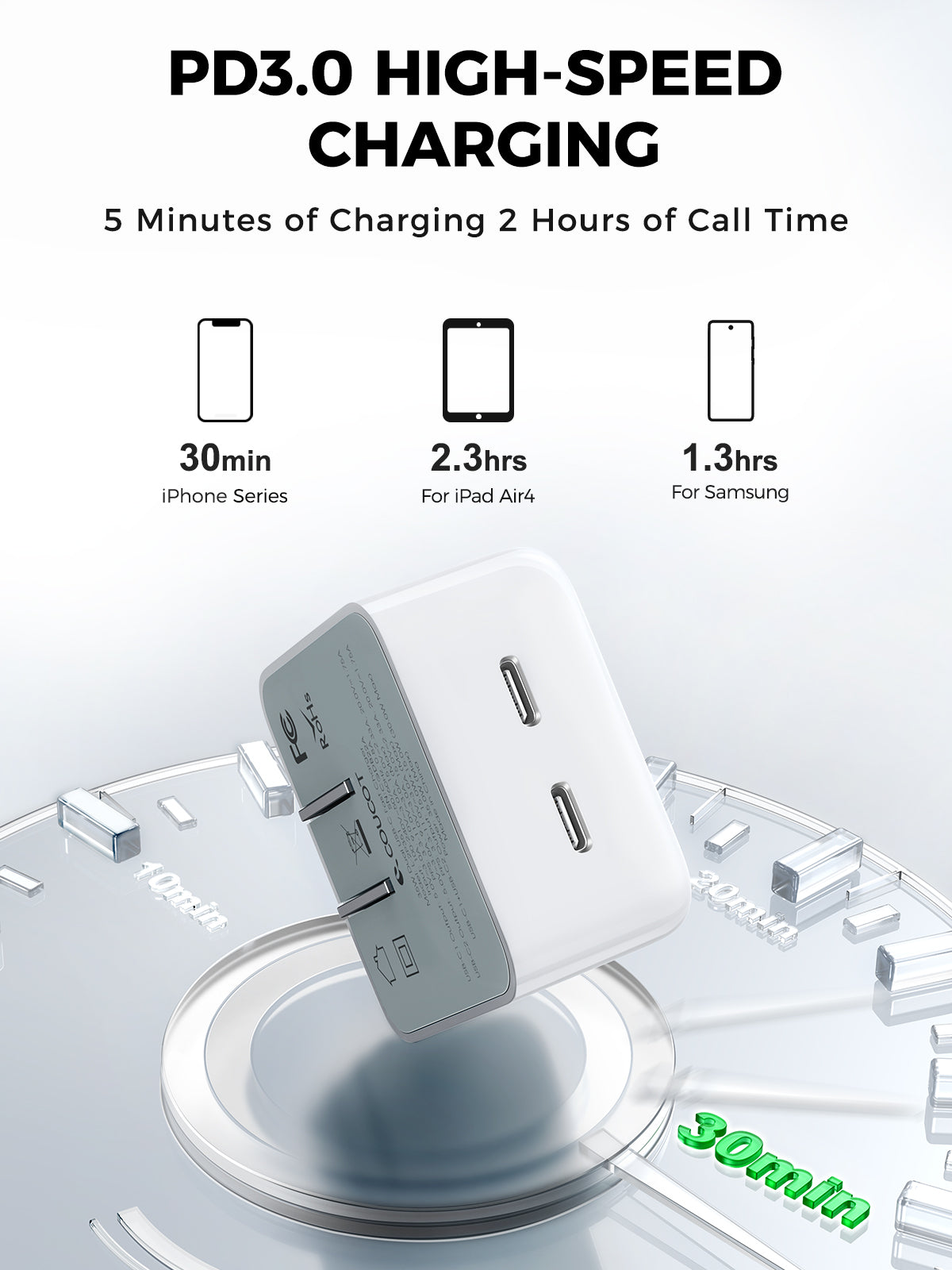 L-2P351 35W Dual USB-C Wall Charger, PD 3.0 35W Foldable USB Plug iPad Charger Cube for iPhone 13/ iPhone 13 Pro Max/iPhone 12/11, iPad and More (Cable Not Included)
About this item
⚡ 【35W Fast Charger Block】 PD 3.0 USB C wall charger fast charging port output 35W(max), 5X faster than 5V2A charger, Charges iPhone 13 Pro max from 0% to 65% in just 30 minutes, Charges iPad Air4 from 0% to 55% in just 30 minutes.(Note: When two ports are charging at the same time, they share 30W.)

⚡ 【Dual Port Output】 With 2 Type C ports, this iPhone charger block lets you charge two devices simultaneously, a much more efficient way to charge your phone, iPad or Apple Watch at the same time.

⚡ 【Flat Wall Charger & Foldable Plug 】Better than other wall chargers, this fast charging block can be accessed behind most furniture such as couches, beds and nightstands to charge devices. What's more, it has a foldable plug that offers greater portability, saving space in your bag. Absolutely a good companion for your travel!

⚡ 【FCC Certification】 USB-C power adapter has provided the advanced intelligent circuity safety system to prevent short-circuit, overheating, overcurrent, and overcharging. And the unique trickle charging mode is automatically activated to protect the health of the phone battery when the battery power reaches 80%.

⚡ 【Broad Compatibility】 C charger block ​compatible with iPhone 13, 13 pro, 13 pro max, 13 mini, 12, 12 Mini, 12 Pro, 12 Pro Max, iPad Pro, iPad Air, iPad mini, Samsung Galaxy Note S22 S21 S20 iPad Macbook and most of phone tablet laptop and more devices.

⚡ 【Customer Service】As long as you have questions, we will help within 24 hours.
Future-Proofing USB C Charger
With USB-C finally more-or-less standard across phones, tablets, and laptops, a USB C charger is necessary.

If you have already bought a new high-end phone from Apple or Samsung and you want a modern charging block that supports fast charging, this 35 watts block is a great choice. It's affordable, small enough to use for travel, and capable enough to power the latest gear.
Q: Does it fit for iPhone 13 pro max?
A: Yes. According to a large number of data, the maximum power of the iPhone 13 Pro Max output is up to 27W. Thus, this 35W Fast Charger Block charges faster than any other 20W charger. About 30mins from 0% to 65%. Worth to try it!
Q: Is this 35w charger safe for old iPhones?
A: Definitely safe, the built-in power tuner chip can intelligently identify the charging protocol of your mobile phone and automatically allocate power and will only charge as fast as the phone will allow it.
Q: Is fast Charging bad for your phone battery?
A: Fast chargers cannot "overload" a battery since the smartphone will only request as much power as it can handle. This means you can safely use a USB charger that pumps out more wattage than your device's maximum charging rate.
Flat Wall charger
This fast-charging block can be accessed behind most furniture such as couches, beds and night stands to charge devices. And its cord plugs face downward, no more crashed cables!
Product Parameters
| | |
| --- | --- |
| Model | L-2P351 |
| Material | PC |
| Port | Dual Ports USB C |
| Single Device Output | 35W(max) |
| Input | 100-240V~50/60Hz, 0.8A |
| | |
| --- | --- |
| Protocol | PD3.0, QC3.0, PPS, AFC, FCP |
| Size | 2*2*1.1 inch |
| Weight | 2.9 Ounce |
| Dual Device Output | 15W+15W |
| Note | Cable not Included |